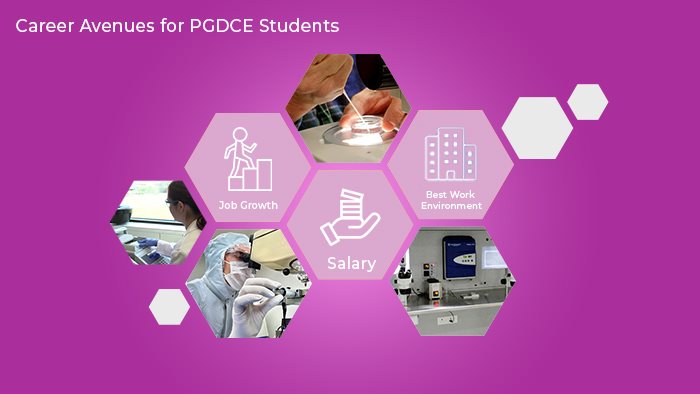 Career avenues for an Embryologist
Parenthood is one of the most important achievements and the inability to procreate can be devastating. According to the Indian Society of Assisted Reproduction, today India has approximately 10-14% of infertile couples, with nearly 27.5 million couples actively trying to conceive are battling with infertility.
Infertility numbers are on the rise in these modern times due to poor lifestyle habits, leading them to visit the fertility clinics for help. India witnesses approximately 2, 00, 00 IVF cycles each year and it is anticipated to see a rise in these numbers. Thus, this has put a huge demand on the need for embryologists.
Embryology, the branch which deals with the gametes and their fertilization. This branch of biology has been on the rise since the inception of the assisted reproductive technologies.
Life as an Embryologist:
You will be an integral part of a team of fertility specialists, trying to make a difference in the lives of couples, helping them achieving their dream of parenthood. You will be responsible to conduct research, providing insights and making discoveries to treat fertility and reproductive issues.

Embryologist day-day activities:
Performing in-vitro fertilization procedures
Conducting regular assessments on the health and development of embryos
Maintain records and ensure the laboratory functions consistently as per the standard guidelines.
Making appropriate decisions on picking the right quality of gametes for fertilization
Adhering to ethical, moral and legal regulations of the IVF laboratory
Constantly review and improvise the embryology standard operating procedures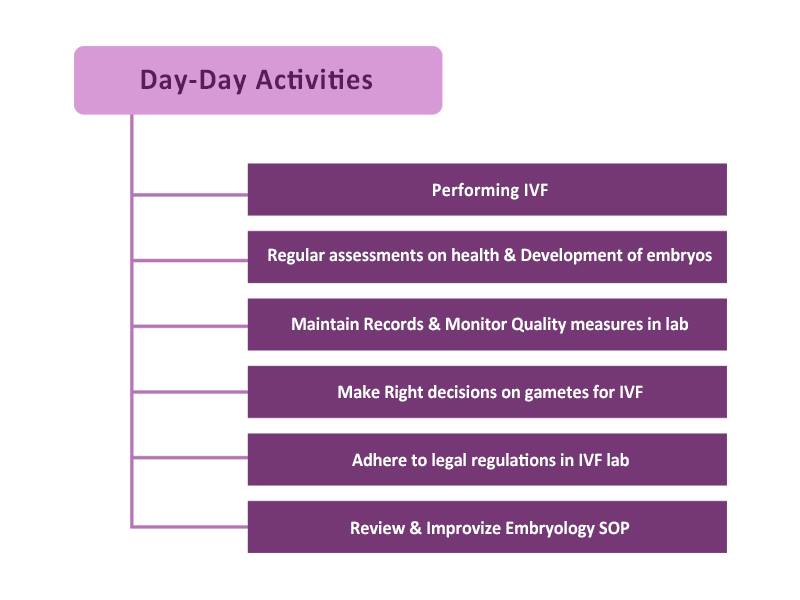 Educational Requirements:
The prerequisites to become an embryologist is a formal education in either biology or biomedicine. Although many professionals who possess either a doctoral degree or a medical degree can also specialize in embryology.
The additional requirements to have a successful career is possessing good communication skills, attention to detail, being compassionate and having problem-solving skills.
Career Scope of an Embryologist:
As an embryologist, you can be rest assured for a bright and accelerating career with a good remuneration. You can work as a fertility researcher, junior or senior embryologist, professors. With experience, you can also attain the position of a Lab Manager. You can also pursue your career as a geneticist.
The world of IVF is one of the fastest paced fields in medicine. "Change is the only constant", with more and more technical advances being incorporated into treatments each year. This creates more opportunities for learning and innovation. If you are a person, who enjoys challenges and an exciting career, then the field of embryology can be a great career option.
We at OSHERM, provide state-of-art infrastructure, equipment, and an expert faculty to guide and mentor students in giving them a hands-on experience which will help you, in shaping your career.