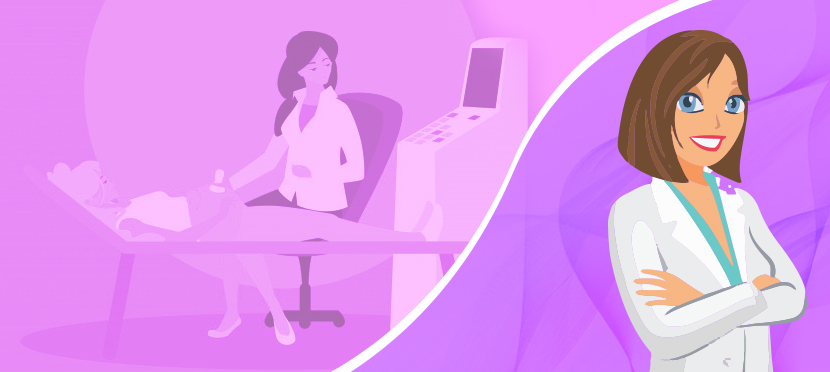 Why a gynaecologist is required to be an expert in Ultrasonography?
Ultrasound is a safe and real-time diagnostic imaging modality. It is highly operator dependent and can be best interpreted during live examinations. It's easy to use and its multiplanar image capabilities not only aid in diagnosis but can also be used to guide therapeutic procedures.
Previously, a gynaecologist would refer patients to the radiology department or a diagnostic centre for a scan. Recently there has been a surge of interest in ultrasonography among gynaecologists and this is increasingly witnessed as the ultrasound machine has become a vital piece of equipment in routine or emergency gynaecological assessment, as a radiologist can't deliver proper information at the right time.
Gynaecologist knowing ultrasonography
As a gynaecologist with expertise in ultrasonography, you can perform a differential diagnosis based on the patient's symptom and you will be able to properly explain what is found in the ultrasound examination.
This could help you to:
∙ Have lesser dependency on the radiologists
∙ Make faster decisions
∙ Make correct decisions in times of emergencies
∙ Gain confidence in patients
∙         Counsel patients about the fetal positions and inform them of any other evaluations.
Importance of ultrasound in infertility treatments:
Ultrasound has become an integral tool in the assessment and management of assisted reproduction treatment (ART). It permits the visualization of the size of the ovaries and the growing ovarian follicles, endometrial receptivity, hydrosalpinx and demonstration of physiological changes of these organs during menstruation, allows for direct monitoring of response in controlled ovarian stimulation, facilitating oocyte retrieval and subsequent embryo transfer. It also aids in the detection and location of pregnancy, diagnosing abortions and follow-ups on pregnancy checks.
So, it's time that you consider the equipment training.
OSHERM:
OSHERM (Oasis School for Human Embryology & Reproductive Medicine) is established with the mission to train life science graduates, clinicians and embryologists. The school is affiliated to Oasis fertility which offers various short term and long term programs for doctors and gynaecologists in the area of human embryology and reproductive medicine.
We offer an intensive short term training on this equipment -transabdominal and transvaginal scanning techniques etc., with the latest available 3D & 4D scanners and offer hands-on stimulation practice and theory classes.
Students at OSHERM gain an understanding of the complex issues that engulf the provision of modern infertility treatments along with the grasp of current management strategies for infertile couples. OSHERM imparts in-depth knowledge through a mixed balance of various teaching modules, lectures, and training to ensure proficiency for every aspirant at the end of various courses.